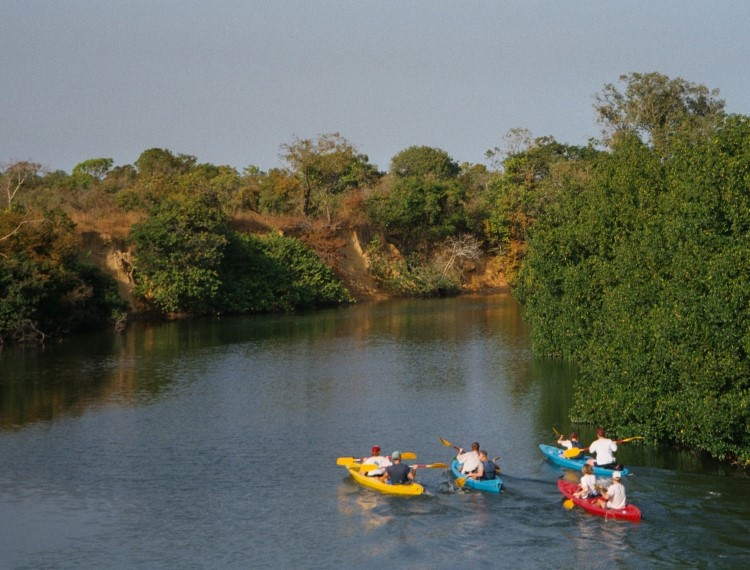 Oussouye – Egueye
Ref : A34


Kayak,
Mountain bike
Oussouye – Egueye
Ref : A34
Description: Mountain biking and kayaking south of Oussouye. Discovery of the forest and mangroves and atmosphere of a night on the edge of bolong.
D1: OUSSOUYE – SIGANAR – EGUEYE – 29 KM MTB
In the morning loop of 17 km in the villages of Siganar and Niambalang (place of fetish, box has impluvium) Lunch in Oussouye then in the afternoon 12 km of tracks and bush paths with passage in the forest, in the palm groves and fields straw to reach the island of Egueye where we sleep at the ecolodge.
D2: KAYAK – EGUEYE – OUSSOUYE – 2:30 HOURS OF KAYAK – 15 KM MTB
In the morning kayak trip to discover the ecosystem of the mangrove (reforestation project, many seabirds). Lunch then return to Oussouye via the Oukout palm grove.
Highlights: The atmosphere of the bolongs while kayaking
The Egueye ecolodge and its grilled oysters (depending on the season).
Highlights : The atmosphere of the bolongs by kayak. The ecolodge of Egueye and its grilled oysters, (depending on the season
Details
Duration of the course : 2 days
Difficulty : intermediate
Itinerary : Oussouye - Siganar -Egueye
Meals : 1 dinner 2 lunches
Accommodation : Lodge