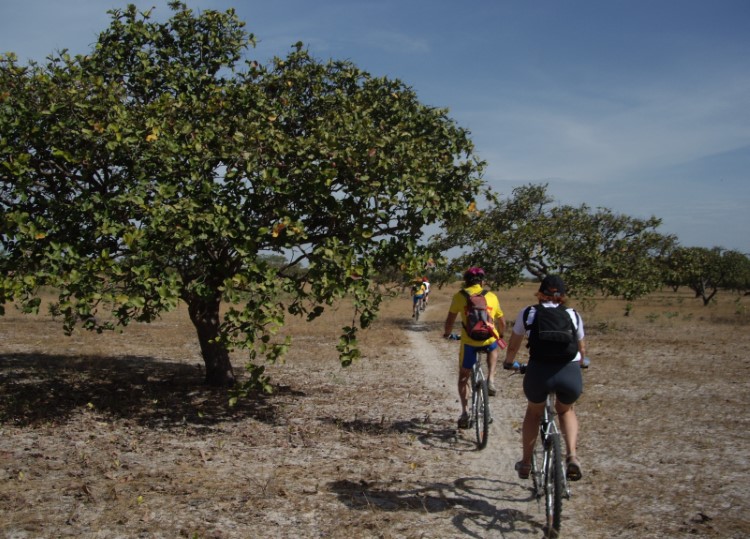 Oussouye -Pointe St Georges – Egueye – Eloubaline
Ref : A56



Kayak,
Mountain bike,
Pirogue
Oussouye -Pointe St Georges – Egueye – Eloubaline
Ref : A56
Description: 4 days of mountain biking, trekking, kayaking and canoeing to discover the banks of the Casamance River, the islands of Egueye and Eloubaline and the traditions of Oussouye.
D1: OUSSOUYE – ELINKINE – MLOMP – PTE ST GEORGES- ENV 15 KM MTB – 01 h 00 PIROGUE
Departure by tracks in the forest and the palm forest to reach Mlomp Visit of the upstairs huts and the museum and lunch. We leave our bikes and then go in a pirogue to go to Pointe St Georges. Depending on the days watching dolphins and manatees. Possibility to go to the platform of Kanufa with supplement. Dinner and night in lodge near the river .
D2: MTOMP PTE – OUSSOUYE – EGUEYE – ENV 30 KM MTB – 3 h 00 trek
Trekking through the trails of the bush then crossing traditional bridges in the mangrove, we reach Mlomp. Return to Oussouye by mountain bike and lunch.
In the afternoon crossing the palm forest of Oukout then the village of Diantène to arrive on the island of Egueye. Dinner and night in eco lodge in Egueye.
D3: EGUEYE OUSSOUYE ENV 2 h 30 KAYAK – 16 KM MTB
In the morning kayak ride to discover the mangrove ecosystem . Lunch in Egueye and in the afternoon back on Oussouye by the nialobodg track .
Dinner and night in Oussouye.
D4: EYUN – ELOUBALINE 20 KM mtb – 2 h 00  PIROGUE
Morning crossing rice fields to reach the village of Siganar and its many neighborhoods (place of fetishes, palaver tree) then arrive in Edioungou where we take a pirogue that takes us to the island of Eloubaline . Lunch then visit of the village and the squares with impluvium. Return by canoe and return by mountain bike crossing several villages united by animist traditions and geography.
Note: Possibility of mounting on the Kanoufa platform at the top of a cheese shop with supplement and reservation. 360° view of the river and savannah
Highlights : The Diola traditions, the architecture of Mlomp, the tracks and the encounters in the bush, the ecosystem of the mangrove by kayak
Details
Duration of the course : 4 days
Difficulty : intermediate
Itinerary : Oussouye - Mlomp - Pte St Georges - Egueye - Eloubaline
Meals : 4 lunches / 3 dinners
Accommodation : Camp