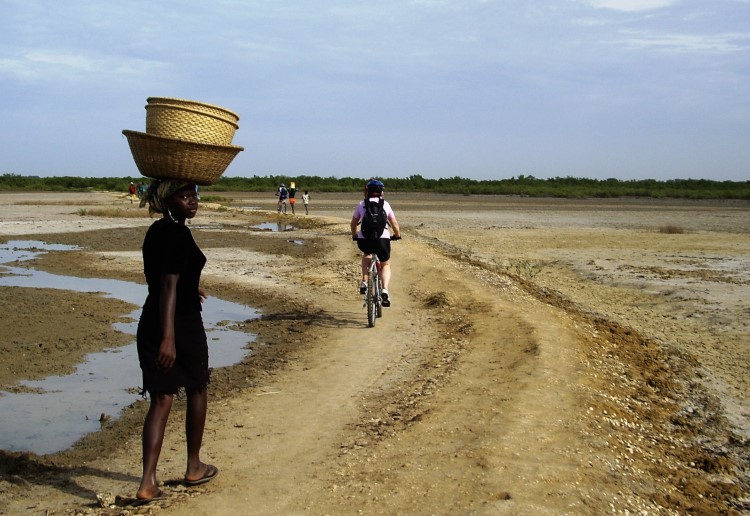 Oussouye – Pointe St Georges – Karabane – Egueye
Ref : A60




Kayak,
Mountain bike,
Pirogue,
Trek
Oussouye – Pointe St Georges – Karabane – Egueye
Ref : A60
Description : Trek, mountain bike, kayak and canoe to discover the most beautiful sites and landscapes of our region and understand the Diola traditions
D1: OUSSOUYE – SIGANAR – NIAMBALANG – 8 KM TREK – 17 KM MOUNTAIN BIKE
In the morning trekking in the heart of 5 villages united by traditions and Diola royalty. Visit the cashew nut processing centre and the fetish place. Lunch on the spot then in the afternoon, 17 km mountain bike loop through the villages of Siganar and Niambalang, palm groves and rice fields, visit of an impluvium hut. Night in Oussouye.
D2: OUSSOUYE – MLOMP – ELINKINE – OUSSOUYE 30 KM MOUNTAIN BIKE
By the tracks of bush bordered of cashew tree, we arrive in the village of Mlomp. Visit of the village (huts and colonnades) and the museum. Lunch on site. We then continue to the fishing port of Elinkine before returning to Oussouye by a track in the classified forest. Dinner and
night in Oussouye.
D3: OUSSOUYE – PTE ST GEORGES -KANOUFA – 17 KM TREK :
Transfer by taxi to Mlomp where we take a path through the rice fields and then cross the bolongs on traditional bridges before arriving at the Pte St Georges where we can, depending on the day, observe the lamentines. Lunch on the banks of the Casamance River. In the afternoon we go to the forest of Kanoufa where we climb on a platform in a cheese tree, 25 m above the ground with a 180º view on the river and the bush. Return to the village. Dinner and overnight in Pte St Georges.
D4: PTE ST GEORGES – ELINKINE – KARABANE – EGUEYE – 15 KM TREK – 30 MN PIROGUE:
Depending on the tide, we return to Mlomp or Djiramaete by pirogue (approx. 45mn) to meet our taxi. Short transfer to the fishing port of Elinkine then crossing by pirogue to Karabane (approx 35 mn). Visit and lunch in Karabane then in the afternoon we cross the island from East to West through palm and rice fields then transfer by pirogue to Egueye. Dinner and overnight at Egueye.
D5: EGUEYE – OUSSOUYE – 2 H 30 KAYAK – 15 KM TREK :
In the morning, we embark on kayaks for a trip of about 2 h 30, on the bolong to discover the marine environment of the mangrove (reforestation project). Lunch at Egueye. Afternoon return to Oussouye by trekking through the village of Diantène and the palm grove before arriving in Oukout and Oussouye. End of the programme.
Highlights : The Diola traditions, the Casamance river and Pointe St Georges.   Kayaking in Egueye
Details
Duration of the course : 5 days
Difficulty : intermediate
Itinerary : Oussouye - Siganar - Mlomp - Pte St Georges - Karabane - Egueye
Meals : 5 lunches - 4 dinners
Accommodation : Camp